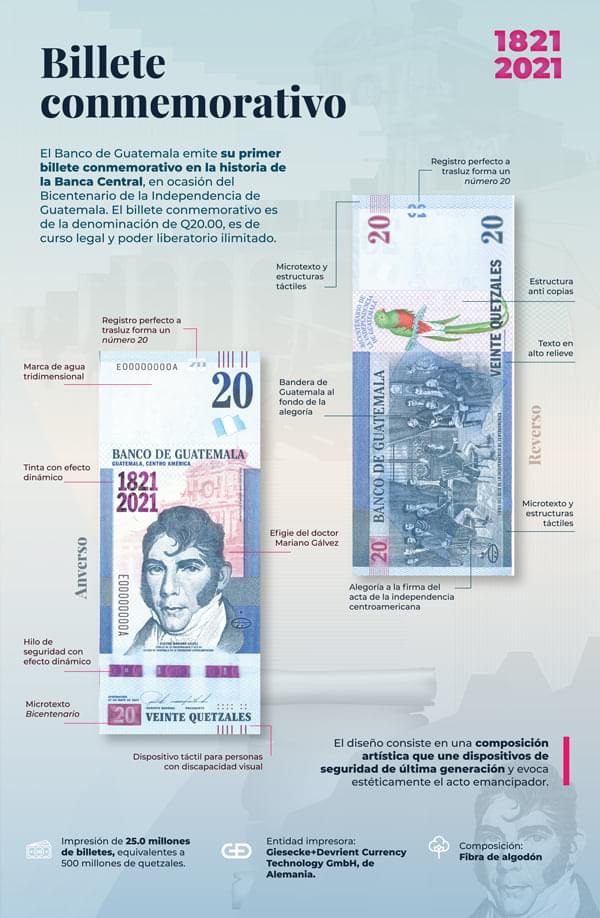 You saw it first here…
Banco de Guatemala published today the designs of its new banknote and coin commemorative of the Bicentennial of the Central American Declaration of Independence.
This 20 quetzales banknote (GTQ20.4) is its first ever commemorative issue.  It is dated 2021. The total issue is limited to 25 million notes, which were printed by Giesecke + Devrient Currency Technology.
The front shows the portrait of Manuel Gálvez, one of the signers of the Declaration of Independence, and the back depicts the signing ceremony.
It is expected to be placed in circulation in September.
Source: Banco de Guatemala.
Courtesy: Gabriel's Numismatic Market, LLC.
Click here to order the MRI BANKERS' GUIDE TO FOREIGN CURRENCY™
*** Would you like to share your comments, corrections or news? Please contact info@mriguide.com
©2021  MRI BANKERS' GUIDE TO FOREIGN CURRENCY™. All rights reserved.
« More posts