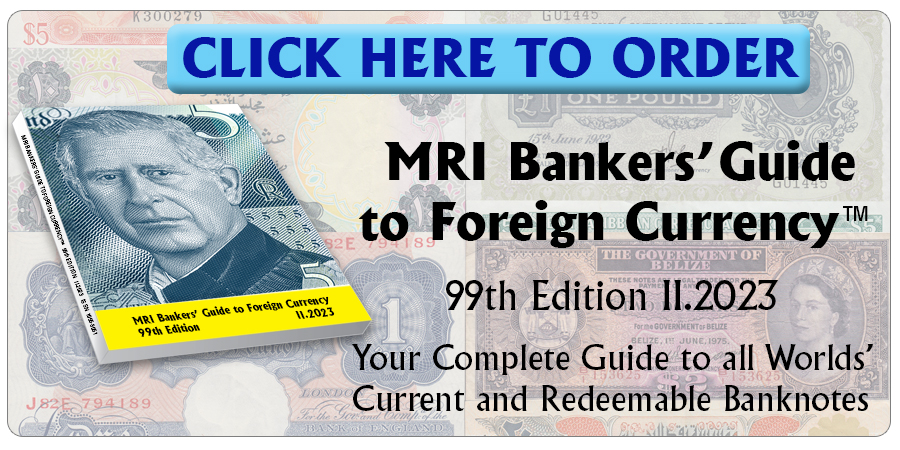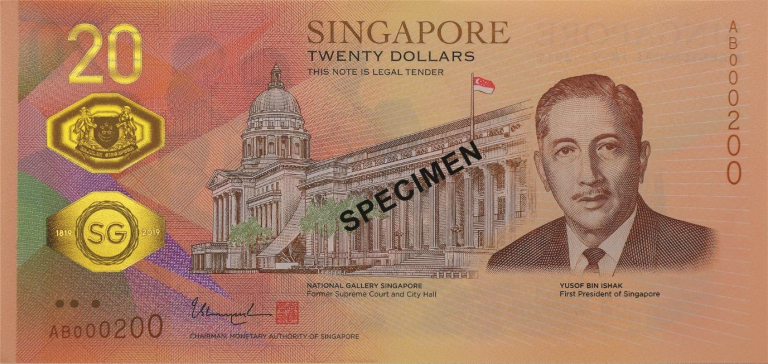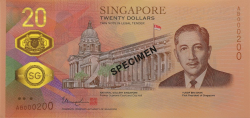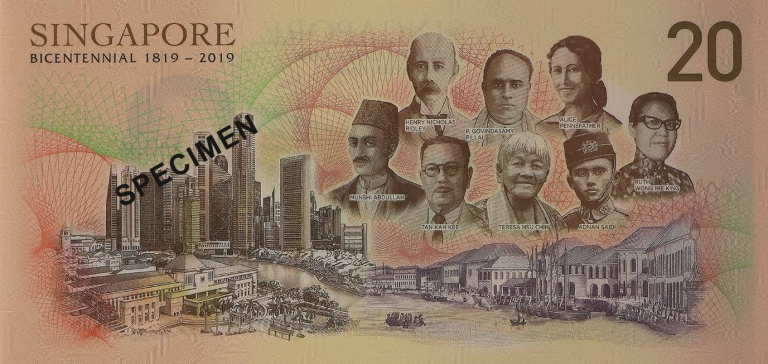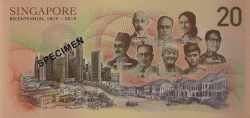 Halimah Yacob, Singapore's President, launched today a new banknote of 20 dollars (SGD20.2) commemorative of Singapore's Bicentennial, which marks 200 years since the arrival of Sir Stamford Raffles to the island.
The front shows the portrait of Yusof Ishak, Singapore's first president, and the buildings of the former Supreme Court and City Hall.
The back shows the old Singapore River flowing into modern-day Singapore, and the portraits of eight pioneers who made significant contributions. They are Munshi Abdullah, who was Raffle's secretary and interpreter; philanthropists Tan Kah Kee and P. Govindasamy Pillai; sportswoman Alice Pennefather; Henry Nicholas Ridley, first Director of the Singapore Botanic Gardens; social worker Teresa Hsu Chih; war hero Adnan Saidi;s and the then-Institute of Education founding director Ruth Wong. 
The new banknote was designed by local artists Eng Sick Loy and his son Weng Ziyan. Mr Eng is known for designing the 1999 portrait series.
Two million pieces will be available at commercial banks on June 10, with a limit of 20 pieces per transaction.
Five thousand limited edition numismatic sets with an uncut sheet of 3 notes will also be on sale. Pre-orders may be placed with Singapore Mint between today and June 14. If these are oversold, which is highly likely, there will be a drawing
Source: today online.com
Courtesy: Gabriel's Numismatic Market LLC.
Click here to order the MRI BANKERS' GUIDE TO FOREIGN CURRENCY™
*** Do you want to share your comments, corrections or news? Please contact info@mriguide.com
©2019  MRI BANKERS' GUIDE TO FOREIGN CURRENCY™
« More posts