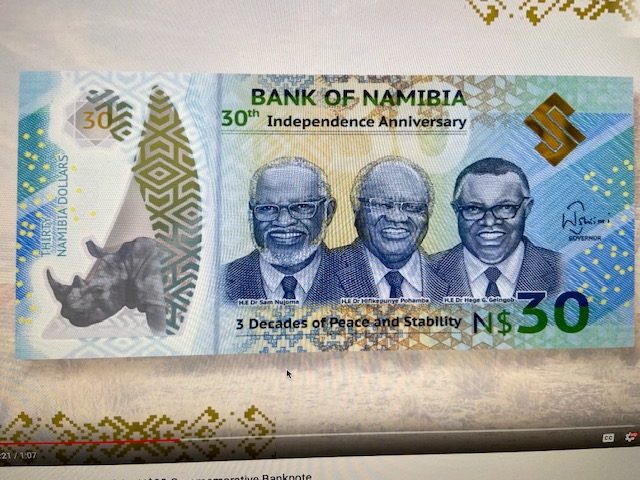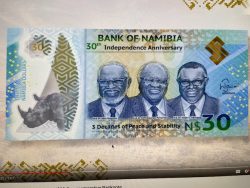 In a press release dated today Bank of Namibia informed that a new polymer banknote of 30 Namibia dollars (NAD30.1)  will be launched to commemorate the 30th Anniversary of Independence.
The note captures the theme of three decades of Independence, Smooth transfer of power between three Presidents, Peace, Stability and Progress.
The front of the note shows the Three Presidents, San Nojoma, Hifikepunye Pohamba and  Hage G. Geingob and a diamond shaped window with "30" in gold ink. In the back is the Namibian Black Rhino.
All previous banknotes, from the First Series on, remain legal tender.
Source:  bon.com.na
Courtesy: Gabriel's Numismatic Market, LLC, Cleophas Schockem, Claudio Marana.
Click here to order the MRI BANKERS' GUIDE TO FOREIGN CURRENCY™
*** Would you like to share your comments, corrections or news? Please contact info@mriguide.com
©2020  MRI BANKERS' GUIDE TO FOREIGN CURRENCY™. All rights reserved
« More posts