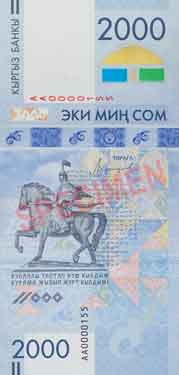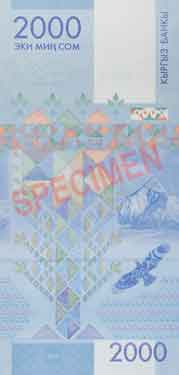 The National Bank of the Kyrgyz Republic will issue on November 17 a new banknote of 2,000 som (KGS2,000.1) to commemorate the 25th Anniversary of Independence of the Republic of Kyrgyzstan.
The front shows Manas, the National Hero who united the Kyrgyz tribes, represented by stylized ornamental figures, the symbol "Umai Ene" personifies the oldest deity, the progenitor of the Turkic peoples, and yurts, the traditional dwelling of nomadic peoples.
On the back there is a tree, symbol of life and prosperity, the Khan-Tengi mountain, and a golden eagle over the mountain lake Issyk-Kul.
Source: National Bank of the Kyrgyz Republic
Courtesy: Cleophas Schockem
©2017 Monetary Research Institute
« More posts