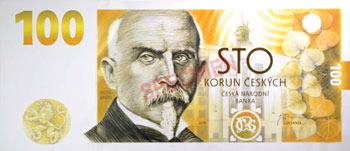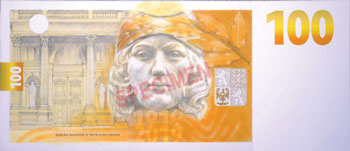 The new banknotes of 100 koruna (CZK100.1D) while officially issued, are not found in circulation, because of problems with dispensing them in ATM's. In practice these notes can be only obtained at the Czech National Bank, where they are available to collectors in a limited way.
As for the banknotes of 100 korun commemorative of the 100 years of introduction of the korun, there are reports of two different notes, one similar to the current note (CZK100.3), with a special text at the left of front, which will be printed and distributed in a limited quantity at face value; and a special one (CZK100.2) to be sold in a special folder at a premium.
Courtesy: Mojmir Cerni and Gabriel Numismatic Market LLC.
Source: cnb,cz 
Click here to order the MRI BANKERS' GUIDE TO FOREIGN CURRENCY™
©2018  MRI BANKERS' GUIDE TO FOREIGN CURRENCY™
« More posts