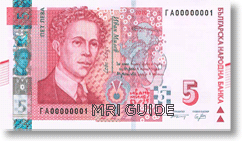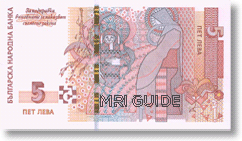 You saw it first here!
Bulgarian National Bank will issue on 4 September 2020 an improved banknote of 5 leva (BGN5.1C) dated 2020.
Its main improvements are:
   a protective varnish coat,
    two thick and nine thin high relief marks to help visually impaired people,
   a hologram stripe with optical effects,
   an improved wide segmented security thread in the back, and
   high resolution watermark.
Additional details, as well as a video, a poster and a leaflet may be accessed by clicking the link below.
Source: Bulgarian National Bank
Courtesy: Cleophas Schockem.
Click here to order the MRI BANKERS' GUIDE TO FOREIGN CURRENCY™
*** Would you like to share your comments, corrections or news? Please contact info@mriguide.com
©2020  MRI BANKERS' GUIDE TO FOREIGN CURRENCY™. All rights reserved.
« More posts