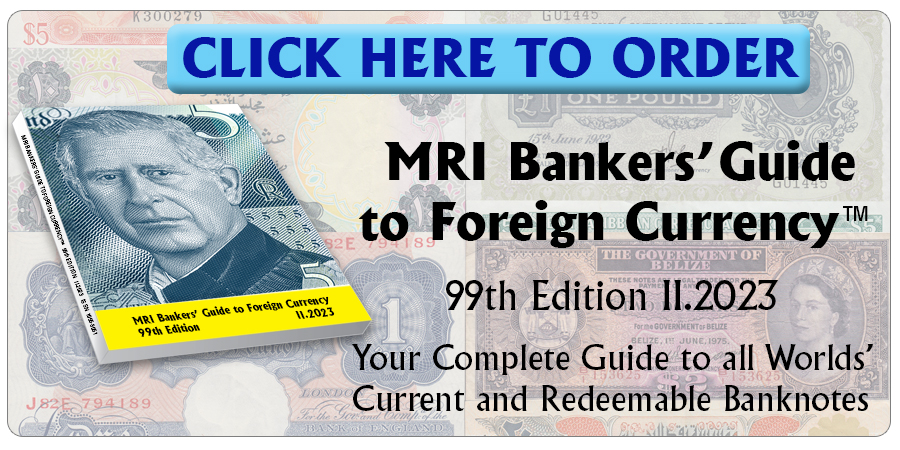 On 23 March 2020 the National Bank of the Republic of Belarus will issue improved banknotes of 20 (BYN20.2) and 50 rubliei (BYN50.2) which were printed by Goznak, the Russian fiscal printer.
These new banknotes are dated 2020 and are similar to the 2009 ones (BYB20.1 and BYB50.1) and are improved by additional  watermarks and a wider security band. The 50 rubliei note includes images with optical variable effect.
The title and signature facsimile of the Governor of the bank have been omitted.
The architectural images are modified to better show their current aspect, and their name is given.
In the 50 rubliei banknote the value "ПЯЦЬДЗЕСЯТ" has been changed to "ПЯЦЬДЗЯСЯТ".
The previous banknotes dated 2009 (BYN20.1 and BYB50.1) continue to be in circulation until they become unfit by wear.
Source: nbrb.by/eng/
Courtesy: Cleophas Schockem.
Click here to order the MRI BANKERS' GUIDE TO FOREIGN CURRENCY™
*** Would you like to share your comments, corrections or news? Please contact info@mriguide.com
©2020  MRI BANKERS' GUIDE TO FOREIGN CURRENCY™. All rights reserved
« More posts