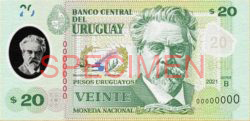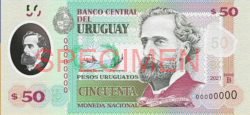 Banco Central del Uruguay will present this Saturday at its Numismatic Museum the new polymer banknotes of 20 pesos uruguayos (UYU20.3) and 50 pesos uruguayos (UYU50.4) on the occasion of the Heritage Day.
These notes are part of a new family, in which notes will be of different sizes, as opposed to the current ones, in which they are of uniform size.
The new notes will enter circulation immediately, and will co-circulate with the current ones.
Collectors will be allowed at the presentation to obtain up to 10 notes of each denomination, presumably of low serial numbers, by presenting same numbers of current paper ones.
Source: Banco Central del Uruguay.
Courtesy: Gabriel's Numismatic Market, LLC
Click here to order the MRI BANKERS' GUIDE TO FOREIGN CURRENCY™
*** Would you like to share your comments, corrections or news? Please contact info@mriguide.com
©2020  MRI BANKERS' GUIDE TO FOREIGN CURRENCY™. All rights reserved.
« More posts