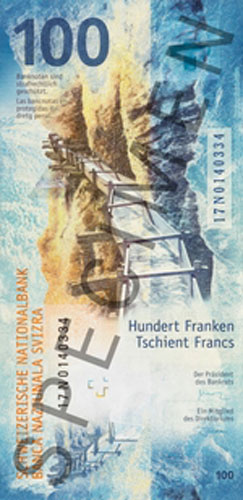 The Swiss National Bank has presented today the new banknote of 100 francs (CHF100.3) which will be issued on 12 September.
This banknote completes the new ninth family. It focuses on Switzerland"s humanitarian tradition, represented by the key motif of water. As with the other notes of the family, all were designed by Manuela Pfrunder. All were printed by Orell Füssli Security Printing on DuraSafe substrate produced by Landqart.
The banknotes of the Eight Series issued in the late 1990's remain in circulation until further advice.
Source: snb.ch
Courtesy: Cleophas Schockem.
Click here to order the MRI BANKERS' GUIDE TO FOREIGN CURRENCY™
*** Do you want to share your comments, corrections or news? Please contact info@mriguide.com
©2019  MRI BANKERS' GUIDE TO FOREIGN CURRENCY™
« More posts