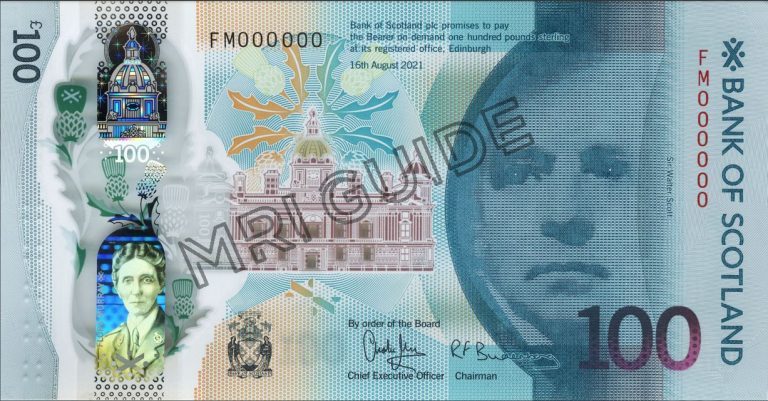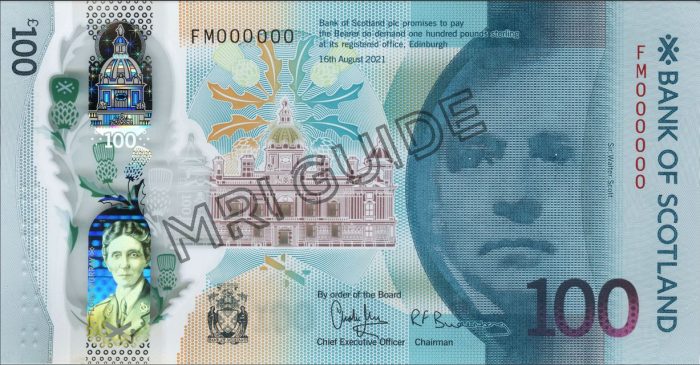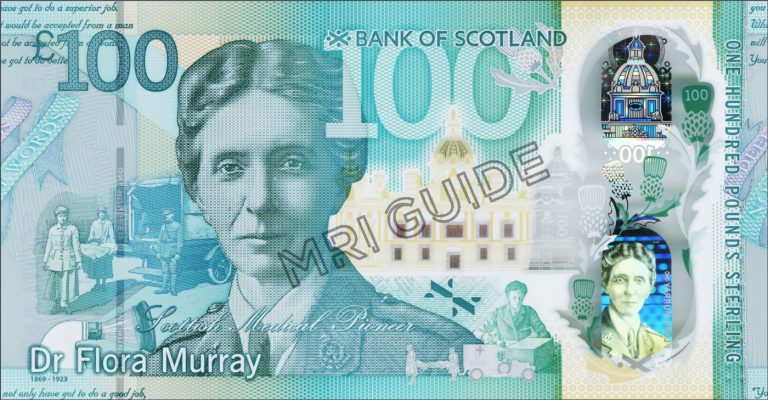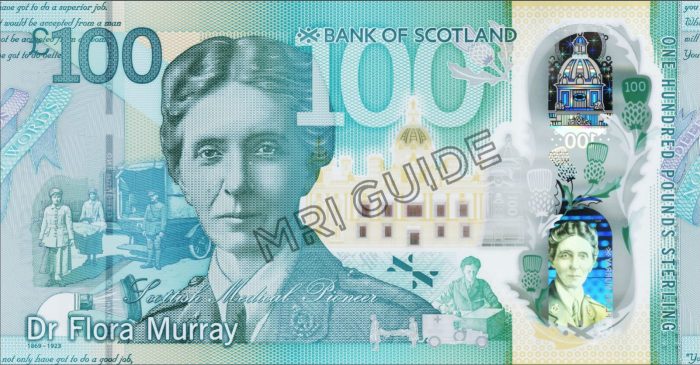 Bank of Scotland, a member of Lloyds Bank Group, has unveiled today its new polymer banknote of 100 pounds (SCO-BS100.3) which honors Dr Flora Murray, a Scottish suffragette and Medical pioneer who helped care for tens of thousands of injured WWI veterans. She became a Medical doctor in 1905 and founded in 1912 the London's Hospital for Children. 
The front of the note shows Sir Walter Scott and The Mound in Edinburgh.
When the First World War started she founded the Women's Hospital Corps and opened two military hospitals in France entirely staffed by suffragettes.
Dr Murray and Dr Louise Garrett Anderson, her lifetime companion, were awarded in 1917 the Commander of the Order of the British Empire by King George V.
The new note will be released to circulation on 9 May 2022, a day after Dr Murray's birthday. Bank of Scotland will auction 94 "fancy" serial number notes with proceeds going to Mental Health UK, and the Royal Free Charity in London.
Sources: Lloyds Bank Group, Bank of Scotland ,and www.polymernotes.com.
Courtesy: Gabriel's Numismatic Market, LLC.
Click here to order the MRI BANKERS' GUIDE TO FOREIGN CURRENCY™
*** Would you like to share your comments, corrections or news? Please contact info@mriguide.com
©2022  MRI BANKERS' GUIDE TO FOREIGN CURRENCY™. All rights reserved.
« More posts