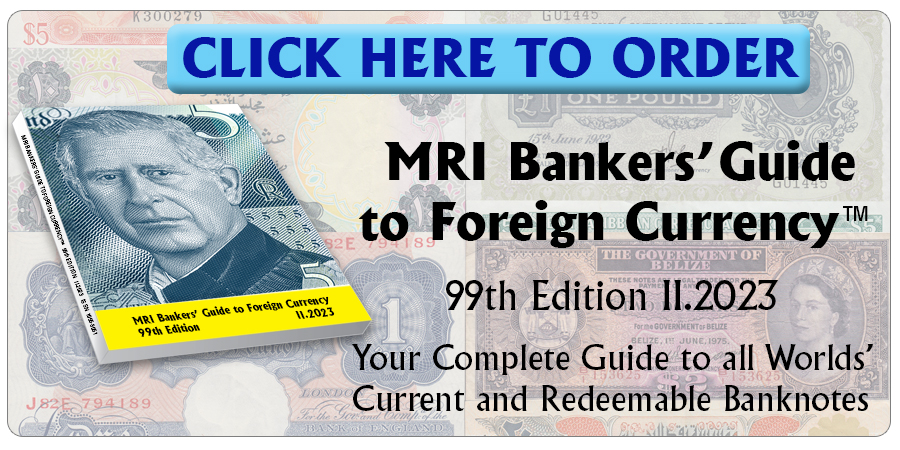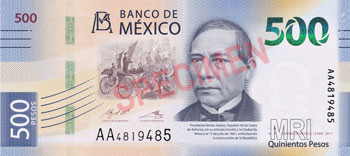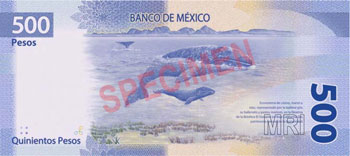 Banco de Mexico has presented yesterday its new banknote of 500 pesos (MXN500.6) which will start circulating today.
It is dated 17 May 2017, the predominant color is violet blue, it measures 146 x 55 mm and is printed on cotton paper substrate. It has a wide dynamic vertical segmented security thread, and the value printed on Optical Variable Ink.
The front shows the portrait of President Benito Juárez and a scene of his triumphal entrance to Mexico City on July 15, 1867 after the defeat of Maximilan's Empire, representing the the Reform and Restoration of the Republic period. The motifs on the back are the Eco-system of shorelines, sea and islands, a gray whale and its calf, and the Biosphere El Vizcaíno in Baja California Sur.
This is the first denomination of the "G" new family of banknotes that Banco de México will be introducing over the next years. Each denomination will be devoted to a different period of Mexico's history, its Flora and Fauna and areas that have been declarated "Natural Patrimnony of Humanity" by UNESCO.
The planned denominations, main themes and expected issue dates are:
50 pesos (MXN50.8)   Pre-Columbian era. Foundation of Mexico City, Tenotchitlan / Rivers and lakes – Ajolote (salamander), corn, Xochimilco.  Expected to be released in the first half of 2022. Probably to be printed on polymer substrate.
100 pesos (MXN100.9)  Colonial era.  Sor Juana Inés de la Cruz, Monarch butterfly / Pine and holm trees, Monarch butterfly biosphere, Expected to be released in the second half of 2021. Probably to be printed on polymer substrate.
200 pesos (MXN200.7)  Independence War period, Miguel Hidalgo and José María Morelos / Eagle and saguaro cactus, El Pinacate and Desert of Altar biosphere.  Expected to be released in the second half of 2019.
1,000 pesos (MXN1,000.3)  Revolution period. Portraits of Francisco I. Madero, Hermila Galindo and Carmen Serdán / Jaguar, ceiba and sapote, Mayan city of Calakmul.  Expected to be released in first half of 2020.
2,000 pesos (MXN2,000.1)  Contemporary period.  Portraits of Octavio Paz and Rosario Castellanos / Magueyero bat and agave, Agave field and old tequila installation.  To be issued only if circumstances require it.
Source:  Banco de Mexico  (SALEN DE LOS LINKS DE UNO DE LOS MAILS DE AYER)
Courtesy:  Nicolás Quentin, Cleophas Schockem, Gabriel Numismatic Market, LLC, Claudio Amato.
Subscribe now to the MRI BANKERS' GUIDE TO FOREIGN CURRENCY™
©2018  Monetary Research Institute.
« More posts