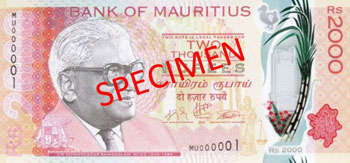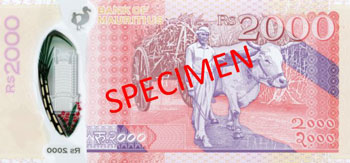 The Bank of Mauritius will issue tomorrow December 5 an improved polymer note of 2,000 rupees (MUR2,000.3) to replace the current paper ones (MUR2,000.2) which will cease to be legal tender by February 1, 2019.
The new banknote is similar in design and size to the current one, except for the substrate, which, as it was notes, is polymer.
The change is due to the abundance of forgeries of the paper notes, which have been prevalent from the beginning of the year.
Holders of paper banknotes will be required to provide proof of identity for cash exchange.  There is a statutory limit of MUR500,000. Split transactions will be closely monitored by banks. Additionally banks may, irrespective of the amount, require proof of origin of funds.
Holder of the paper notes may also deposit them into their bank accounts.
If counterfeit notes are found, these will be reported to the Police.
After  February 1, 2019 the exchange of the paper notes can be only be made at the counter of the Bank of Mauritius.
Source: Bank of Mauritius   Le Mauricien
Courtesy: Cleophas Schockem
Click here to order the MRI BANKERS' GUIDE TO FOREIGN CURRENCY™
©2018  MRI BANKERS' GUIDE TO FOREIGN CURRENCY™
« More posts