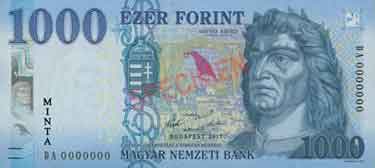 The Magyar Nemzeti Bank has started today issuing the new banknote of 1,000 forints dated 2017 (HUF1,000.5).
The previous 2006-08 (HUF1,000.4A) and 2008-15 (HUF1,000.4B) types will continue to be legal tender until 1 November 2018, and redeemable afterward until 2038.
Order your copy of the MRI Bankers' Guide to Foreign Currency™ now!
©2018  Monetary Research Institute
« More posts