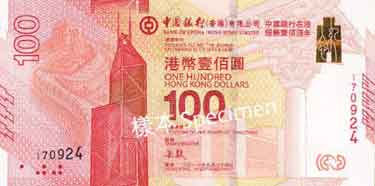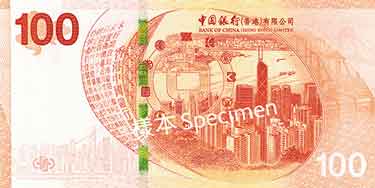 Bank of China will soon issue a 100 Hong Kong dollars new banknote (HK-BoC100.5)  to commemorate its 100th Anniversary in Hong Kong. It was established 24 September 2017, and is today a major commercial bank.
This note is legal tender, but not intended for general circulation. A total of 5 million notes will be issued in three forms of presentation: a special holder with a single note, one with a sheet of three notes, and a sheet of thirty notes packaged in a special tube. A group of 388 notes with special "lucky" numbers have been reserved to be sold at public auction, to benefit charity.
The application period runs from September 28 to October 18, 2017. There is an inquiry line +852 3988 2100 open 24 hours.
Source: Bank of China Hong Kong
Courtesy: Paul Shibu. 
©2017 Monetary Research Institute
« More posts