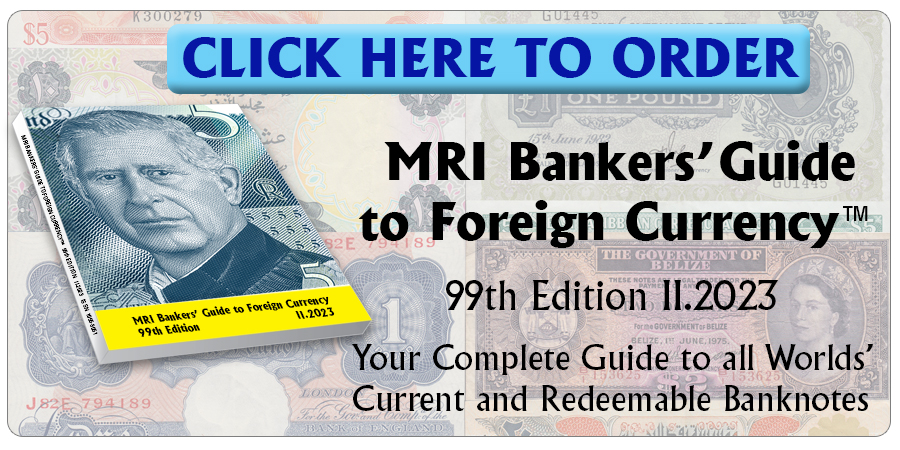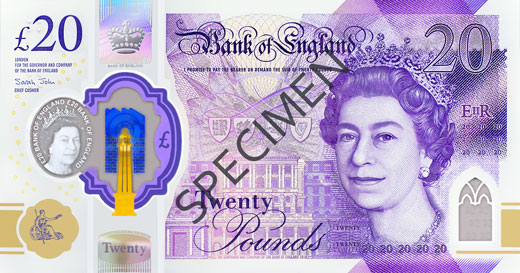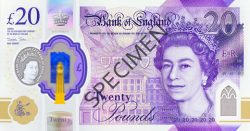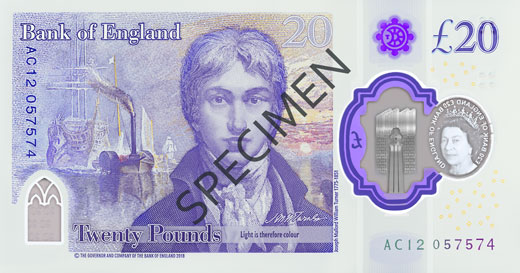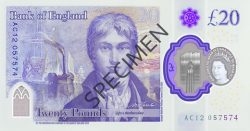 Mark Carney, Governor of the Bank of England, unveiled today the new polymer banknote of 20 pounds (GBP-BoE20.5),  to be issued 20 February 2020. 
It will co-circulate with the paper notes (GBP-BoE20.4), which will be phased out.
Features on the new £20 note include:
A large see-through window with a blue and gold foil on the front depicting Margate lighthouse and Turner Contemporary. The foil is silver on the back. The shape of the large window is based on the shape of the fountains in Trafalgar Square.
A smaller see-through window in the bottom corner of the note, inspired by Tintern Abbey. 
JMW Turner's self-portrait, painted c. 1799 and currently on display in Tate Britain.
One of Turner's most eminent paintings The Fighting Temeraire; a tribute to the ship HMS Temeraire which played a distinguished role in Nelson's victory at the Battle of Trafalgar in 1805. The painting is currently on display in the National Gallery and was voted the nation's favourite painting in a 2005 poll run by BBC Radio 4. 
A metallic hologram which changes between the word 'Twenty' and 'Pounds' when the note is tilted.
The Queen's portrait in the see-through window with '£20 Bank of England' printed twice around the edge.
A silver foil patch with a 3D image of the coronation crown. 
A purple foil patch containing the letter 'T' and based on the staircase at the Tate Britain.
A quote "Light is therefore colour" from an 1818 lecture by Turner referring to the innovative use of light, shade, colour and tone in his pictures.
Turner's signature from his Will, the document with which he bequeathed many of his paintings to the nation.
Source: bankofengland.co.uk
Click here to order the MRI BANKERS' GUIDE TO FOREIGN CURRENCY™
*** Do you want to share your comments, corrections or news? Please contact info@mriguide.com
©2019  MRI BANKERS' GUIDE TO FOREIGN CURRENCY™
« More posts