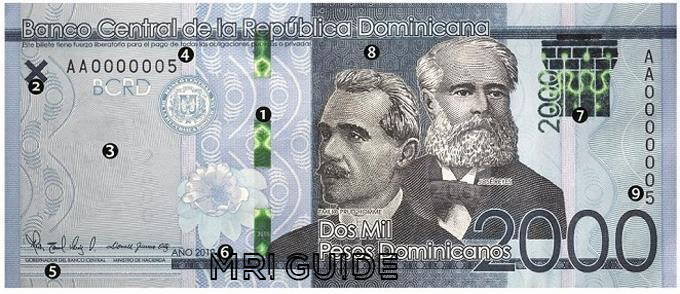 You saw it first here!
Banco Central de la República Dominicana will issue tomorrow, 4 September 2020, a new improved banknote of 2,000 pesos (MRI2,000.5B) dated 2019.
While the design is unchanged, the new banknotes have a wide segmented security thread which changes from blue to green, has a "water drops" effect and the sensation of undulating sand. The mark to help the vision impaired located at the left top corner of the front is different for that on the previous notes.
Source: listindiario.com
Courtesy: Cleophas Schockem
Click here to order the MRI BANKERS' GUIDE TO FOREIGN CURRENCY™
*** Would you like to share your comments, corrections or news? Please contact info@mriguide.com
©2020  MRI BANKERS' GUIDE TO FOREIGN CURRENCY™. All rights reserved.
« More posts