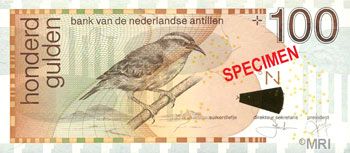 According to an article published by Curaçao Chronicle on October 7 the Central Bank van Curaçao en Sint Maarten has received from local commercial banks counterfeit banknotes of 100 gulden (ANG100.4).
The counterfeit banknotes are of high quality, and have the following features:
The watermark, that normally should be recognized when held up against the light, is now directly visible on the banknote.
The signatures on the banknotes are faint and can easily be removed with a little water.
The banknotes are most probably photocopies of genuine banknotes, however, they are not accurately cut out. Consequently, the notes have a white border to the bottom.
The words "auteursrecht bank van de Nederlandse Antillen" at the right end on the reverse of the banknotes is not clearly legible. The words "auteursrecht" and "bank" are incomplete, they lack a few characters.
The banknotes have the following serial numbers:
8255939013
8255959785
8255401400
8253551472
There are counterfeit notes of 25 and 50 gulden, apparently of low quality.
Source: curacaochronicle.com
Click here to order the MRI BANKERS' GUIDE TO FOREIGN CURRENCY™
©2018  MRI BANKERS' GUIDE TO FOREIGN CURRENCY™