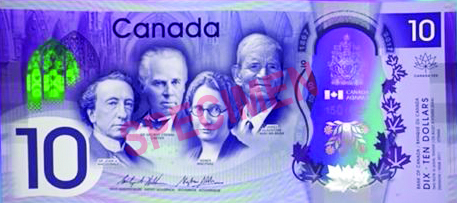 Bank of Canada will replace the portrait of Sir John A. Macdonald, which has been on 10 dollars bills since 1971, in the new family of notes planned for next year. As Prime Minister he promoted the "Indian Law" passed in 1876, which resulted in some 100,000 children taken away from their families to "civilize" them. Instead many of them were subjected to sexual and physical abuse. The effects of this law have been labelled "cultural genocide".
The new banknote (CAD10.6) will show the image of Viola Desmond, who in 1946 stood her ground in a whites-only area of a Nova Scotia theatre, for which she was jailed and fined.
This new banknote will be issued at the end of 2018, and will be the first of a new family. It will be followed by a 5 dollars note (CAD5.5). Other denominations will follow later.
Source: Scotsman.com
Courtesy: Cleophas Schokem.
©2017 Monetary Research Institute
« More posts