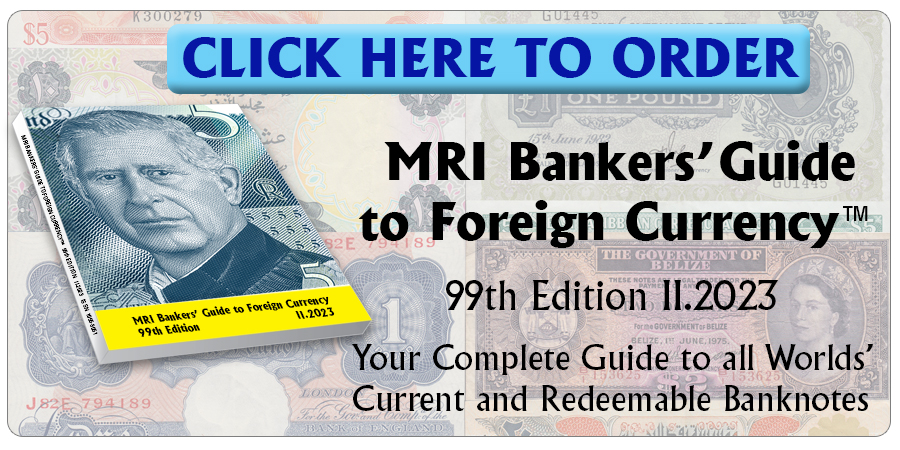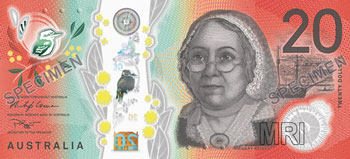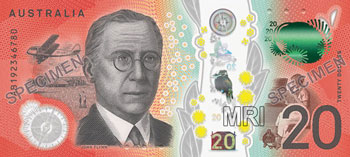 The Reserve Bank of Australia revealed today the design of the new banknote of 20 dollars (AUD20.4) to be issued in October.
It shows Mary Reibey and Reverend John Flynn.
Governor Philip Lowe said of the new banknote: 'Improved security and ease of recognition are important characteristics of the new $20 banknote. The same innovative security features from the previously released $5, $10 and $50 banknotes have been incorporated to help keep them secure from counterfeiting.'
These features include a top-to-bottom clear window that contains dynamic elements, including a flying kookaburra that moves its wings and changes colour, and a reversing number '20'. There is also a patch with a rolling-colour effect and microprint featuring excerpts from Flynn's book The Bushman's Companion and the names of Reibey's ships. As with the $5, $10 and $50, the new banknote includes representations of a wattle and a native bird. The $20 features Acacia buxifolia and a Laughing Kookaburra (Dacelo novaeguineae).
The new banknotes also has a 'tactile' feature to help people who are blind or who have low vision to distinguish between different denominations of banknotes. On the $20 banknote, this is three raised bumps on each of the long edges of the banknote.
Existing $20 banknotes (AUD20.3) can continue to be used, as all previously issued banknotes remain legal tender. It is expected that the $100 banknote will be released next year.
Courtesy: Gabriel's Numismatic Market, Cleophas Schockem.
Source: rba.gov.au
Click here to order the MRI BANKERS' GUIDE TO FOREIGN CURRENCY™
©2019  MRI BANKERS' GUIDE TO FOREIGN CURRENCY™
« More posts