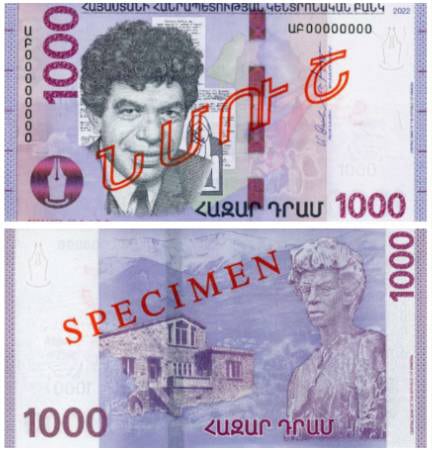 The Central Bank of Armenia announced that it will issue on 23 January 2023 a new banknote of 1,000 drams (AMD1,000.5).
Dated 2022 it is printed on Hybrid™, a "sandwich" cotton paper substrate with very thin polyester outside layers, which provided longer life to the banknote.
The front shows the portrait of poet Paryur Sevak. In the back we see his home in Zangakatun.
Previous notes of the same denomination continue to be current.
Source: armenews.com 
Click here to order the MRI BANKERS' GUIDE TO FOREIGN CURRENCY™
*** Would you like to share news about issue or recall of banknotes, your comments, corrections or other news? Please contact us at info@mriguide.com
©2023  MRI BANKERS' GUIDE TO FOREIGN CURRENCY™. All rights reserved. 


« More posts