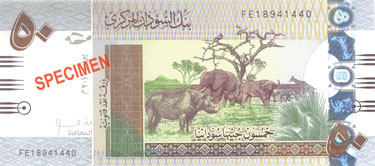 The Central Bank of Sudan has issued yesterday a new banknote of 50 pounds (SDG50.3) to replace the current ones (SDG50.2), which will be retired from circulation. It seems these were widely counterfeited.
No timeline has been established for the withdrawal of the old notes.
Source: Reuters
Order your copy of the MRI Bankers' Guide to Foreign Currency™ now!
©2018  Monetary Research Institute.
« More posts