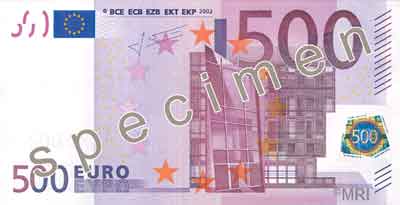 Carl-Ludwig Thiele, one of the six directors of the Deutsche Bundesbank, advocates not getting rid of the 500 euro notes (EUR500.1), and instead issuing new ones with improved security features; while François Villeroi de Galhau, Governor of the Banque de France, is in favor of eliminating them altogether to "fight money laundering and terrorism."
One of the disadvantages of eliminating the large bills is that it will require the printing of large quantities of smaller ones to replace them, with the expense to be borne by the European Central Bank.
Mr. Thiele foresees that while no new 500 euro notes are planned in the current second series, they will be printed in the next decade, when an improved family will be prepared.
Order your copy of the MRI Bankers' Guide to Foreign Currency™ now!
Source: Bmfbusiness
©2017 Monetary Research Institute.
SaveSave
« More posts