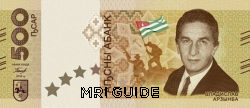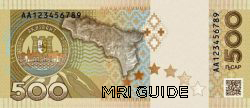 Beslan Baratella, Chairman of the of the National Bank of Abkhazia, announced that the Bank will issue the country's first commemorative banknote, one of 500 apsars (ABA500.1) to honor Vladislav Arynba, first President of the Republic of Abkhazia, and the 25th Anniversary of the "Victory in the Patriotic War of the People of Abkhazia" in 1992. Each apsar equals 10 Russian rubles.
The new banknote is printed on cotton paper, measures 150 x 65 mm and shows in the front the portrait of Vladislav Arynba, and two soldiers raising the Abkhazian flag. In the back there are seven stars, the National Flag and Emblem, and the map of Abkhazia. 
Ten thousand notes will be issued on September 29, and it is not intended for general circulation.
Sources: osinform.org
Courtesy: Cleophas Schockem.
Click here to order the MRI BANKERS' GUIDE TO FOREIGN CURRENCY™
©2018  Monetary Research Institute.
« More posts